About Us
John P. Gallagher & Associates is your planning consultant for the Muskoka, Almaguin and Haliburton regions.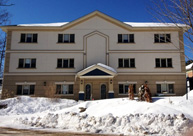 Offering complete planning, development and design consultation services to the areas of Muskoka, Almaguin and Haliburton, John P. Gallagher has the skills, the experience and the know-how to move your project to approval.
As an expert witness in planning and a Registered Professional Planner (RPP), John P Gallagher specialize in residential, commercial and industrial approvals and has achieved a large clientele base throughout Ontario's Cottage Country areas. John and his clients have help shape the area into a beautiful, year round destination while preserving the natural landscape the area is famous for. He works to find a balance between the built form and the natural environment which is beneficial for all.
Our consulting services are targeted towards:
Ensuring that your building project moves off the ground within a reasonable time frame
Expediting any planning, design and/or development processes that are required for the project (development permits, re-zonings, minor variances, site plans)
Ensuring that the ongoing planning and design process runs smoothly and within your specified budget
Easing the burden of the often cumbersome amount of paper work, filings and meetings required of any building or development project approval
John P. Gallagher & Associates is a member of:
The Canadian Institute of Planners
The Ontario Professional Planners Institute
The Canadian Association of Certified Planning Technicians
And the Huntsville/Lake of Bays Chamber of Commerce
Professional Planning Consultants - J.P. Gallagher & Associates
Questions, comments or you would like more information?
Email us or call (705) 789-5900
Contact Us
John P. Gallagher & Associates
1 Rice Lane
Huntsville, Ontario
P1H 1V4
Telephone: (705) 789-5900
Email: john@planningconsultant.net